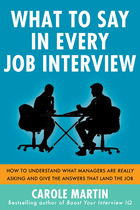 Recently I was contacted by a representative of McGraw Hill Publishers (Education) and asked if I would care to review a new book that goes by the title above - What to Say in Every Job Interview.
As I am constantly reading, researching and learning, of course I jumped at the chance! (I love getting books in the mail - it's the best!)
The book's subtitle is "how to understand what managers are really asking and give the answers that land the job." It's a hefty promise, but I do believe that author Carole Martin delivers!
Ms. Martin is a professional interviewer, coach, author and an expert on the subject of interviewing. (Check her out at www.interviewcoach.com.) With more than 20 years' experience in HR management, Ms. Martin also helps candidates in negotiating salaries.
Not yet through the book as I tend to have more than one book on the go (the mail also brought a copy of a writing magazine to which I subscribe, and I picked up a new "who-dun-it" at the local bookstore - I do enjoy the written word!), so far I am shaking my head "yes" far more often than cocking it in puzzlement or shaking a firm "no"!
The chapter titles convey Ms. Martin's focus: The Key Factors, Can This Candidate Do the Job?, Do We Like This Candidate?, Tell Me About Yourself, Your Examples and Stories, Building Your Inventory, The Five Categories of Interview Questions.
As part of my service I also offer interview coaching. I find that Ms. Martin's process is in large part an expanded version of my own! Great validation for me as I do wish to support my clients with only the best suggestions. I will add Ms. Martin's book title to the end of my eBook, which accompanies each of my interview coaching clients, as a suggested additional resource.
Look for more specific reports on this great career management book in future blogs!
- Stephanie